Energy
Project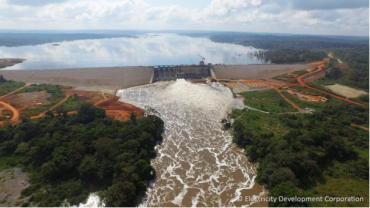 On September 7th 2020, the Cameroonian public company Electricity Development Corporation (EDC) signed its concession agreement with the State for the storage of water dedicated to hydropower generation. Effective since the commissioning of the Lom Pangar dam in 2016, this agreement formalizes the company's role as the water storage operator in the Sanaga basin and will enable EDC to fully endorse the associated responsibilities.
Since 2018, Nodalis has been supporting the Ministry of Water and Energy (MINEE) and EDC in the preparation of this agreement, including its technical specifications and the associated performance contract.
Having proposed and drafted the technical, legal and financial provisions of these contracts and facilitated the dialogue with the sector's key stakeholders, Nodalis now works since early 2020 for the MINEE and EDC – under AFD (Agence Française de Développement) sponsorship – on the operationalization of these provisions. This new assignment targets EDC's operational procedures, HR management, and financial balance.
Nodalis has been supporting the Ministry of Water and Energy and the sectoral regulation agency, ARSEL, for many years. We acted as financial advisor to the government for the Nachtigal hydroelectric IPP project transaction. We also supported the operationalization of SONATREL, the public Transmission System Operator. Finally, we carried out several assignments concerning the development of the sector and the regulation of the concession of AES-SONEL then ENEO.